WAGNER TUNING
Since 2002 WAGNER TUNING have been developing and producing high quality engine parts, such as intake manifolds, exhaust manifolds, downpipes and intercooler kits. Recent technology advancements coupled with years of experience ensure optimum performance and highest manufacturing precision for customers.
These claims were certified in 2013 by TÜV RHEINLAND for the department of "Produktion"(Manufacturing). The KBA certification is a supplement to the quality management standard DIN EN ISO 9001 This certification confirms our own in-house standards for our range of products by an official and certified institute.
Make sure your Wagner Tuning product is genuine by only purchasing either direct or from a verified dealer.
For some time now we have been receiving feedback that some private providers are offering copies of our WAGNER intercoolers on online platforms such as eBay or in tuning forums.
These copies come with a number of risks. Performance far below an original WAGNER intercooler is the first problem. But also because of inferior production some parts of the internal network structure separate and enter the combustion chamber which leads to engine damage.

To help identify our products they all now come with a nanoGram sticker applied to all genuine WAGNERTUNING Intercoolers.
This special sticker contains a 12-digit serial code which can be verified online via www.wagnertuning.com/verify or QR Code Scanner.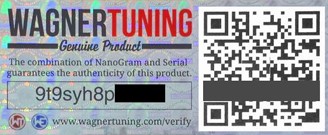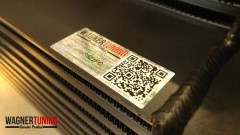 Customers often ask us what is the difference between our Performance and Competition Intercoolers.  Below is a brief summary.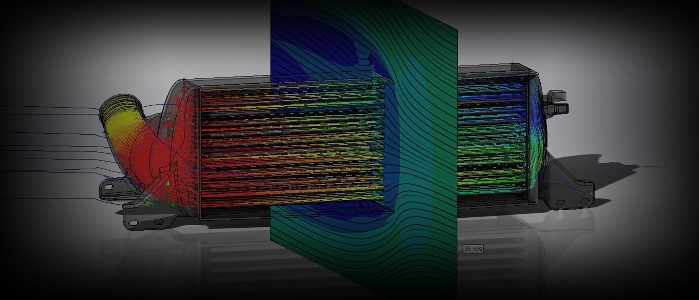 Our Performance Intercoolers have a BAR & PLATE core which offers excellent cooling and improved flow characteristics compared to the OEM unit.
The BAR & PLATE construction is relatively heavy so there is a certain temperature inertia. Meaning under load the core takes longer to heat, but also longer to cool down once the load is removed.
This is fine for on the road but for use on the race track this core construction is not particularly suitable as it arrives at a constant cooling performance at varying loads in the full load range. Also weight reduction is an important consideration for track use.
Our Competition Intercoolers have a TUBE FIN core which offer excellent cooling and flow characteristics compared to both OEM and our Performance Intercoolers.
The fine structure of the TUBE FIN core makes them relatively light and exchange heat much faster. This type of core construction takes temperatures relatively quickly, but also very quickly transfers this away again. For a constant cooling performance in a dynamic throttle situation this is a indispensable feature.
The Competition intercooler are suitable for *street use as well as at the race track.